SERVICES
Emotional support

THRIVE

Home visits for older carers

Carers breaks and lunches

Pampering Services

Form filling, Advocacy and Advice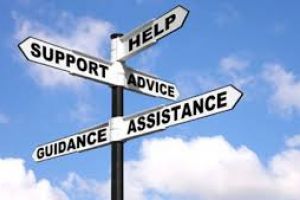 THRIVE
A New Service From Talbot House!
THRIVE exists to provide support to older parent carers
Helping you and your loved ones THRIVE right now and into the future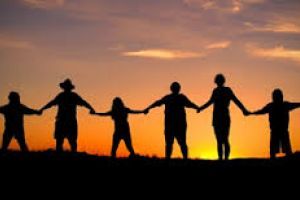 OUR MISSION
Talbot House exists to improve the quality of life for the parent carers
of people with learning disabilities. Our parents receive help and support in a safe, friendly environment, to laugh or cry,
identify with, and support each other. Sharing personal experiences with honesty and acceptance. Click HERE to find out more.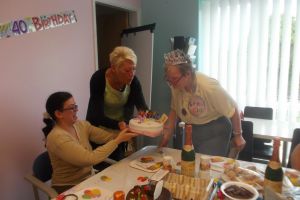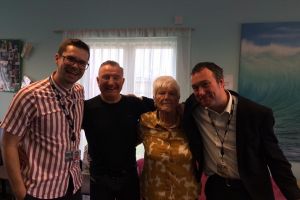 Welcome to
Talbot House
Talbot House supports parents and carers of people who have learning disabilities in Manchester. We are a one stop shop where carers can pop in for a cup of tea and a chat with others in the same boat. We also offer additional services such as:
One to one support
Information about money and benefits
Training for carers
Carer's lunches
Day trips out
Pampering treatments - nail bar, massage and beauty treatments
THRIVE - this is our special project for older carers where we assist carers to make plans for the future
and much more...
We are here to improve the quality of life for parent carers of people with learning disabilities.
People can laugh, cry, identify and support each other here through the sharing of personal experiences and they always leave feeling better than when they came in!
Call us or pop into the centre you will always be made welcome and our tea is second to none!
We are open from 10:00am - 3:00pm Monday to Friday
Please click on our video to find out more about what we do video
Even small donations make a big difference to families and carers of people with learning disabilities.

17/11/2017 - 14:51

talbothousemcr: RT @ManchesterMpcf: Put the date in the diary! #SEND https://t.co/xF4e2CCC4m @CedarMountHigh @thefactoryyz @talbothousemcr @42ndStreetmcr @…

17/11/2017 - 14:50

talbothousemcr: RT @tessthephysio: Bernie & Fran from @talbothousemcr spoke brilliantly on @whjm #radio4 2day about importance of planning for your disa…

17/11/2017 - 14:49

talbothousemcr: Hi everyone, can we please ask you to use 5 minutes for your time to register with Aviva and give Talbot House som… https://t.co/Pp4GxII9wq

02/10/2017 - 12:29

talbothousemcr: At long last there is a Learning |Disability Nurse in our hospitals North Manchester(yes only one)

02/10/2017 - 12:25

talbothousemcr: @Lord_Sugar Any chance you come and meet a chastity doing real ground work?

02/10/2017 - 12:23

talbothousemcr: Fed up of being fobbed off even after writing to Teresa May about our wonderful older carers project THRIVE hope she gets this tweet

02/10/2017 - 12:20

talbothousemcr: Need to contact Teresa May to visit us and keep her word to help older carers through THRIVE project

15/09/2017 - 12:09

talbothousemcr: Talbot House Summer Recap Newsletter 🏠  - https://t.co/LYv0rTRR9P

05/09/2017 - 12:51

talbothousemcr: Text TALB07 £5 to 70070 to donate to Talbot House Support Centre and make a difference today #charitytuesday #carers #manchester

05/09/2017 - 12:49

talbothousemcr: RT @SueCatonMMU: Thanks v much to families from @talbothousemcr who completed internet use & ppl with learning disabilities survey with @Dr…

22/08/2017 - 10:40

talbothousemcr: RT @tessthephysio: Truly awesome carers at @talbothousemcr #Manchester learning about #posturalcare. Thanks 4 sharing your stories xxx http…

01/08/2017 - 09:39

talbothousemcr: Can everyone please take a look at this survey and fill it in if possible. https://t.co/BWPYzOQ5Di

01/08/2017 - 09:39

talbothousemcr: RT @DTeamSalfordCVS: #AskAndyGM @talbothousemcr Bernie made a great case for sustainable funding for VCSE organisation.

01/08/2017 - 09:35

talbothousemcr: Thank you @executive_vpa for the tweet. Lovely to meet you 😊 https://t.co/7k3mI7yGS8

18/07/2017 - 10:19

talbothousemcr: RT @careee: Please Vote and retweet #charity #community #parentcarers #carers #manchester https://t.co/w3MeM39Go5

18/07/2017 - 10:18

talbothousemcr: RT @careee: Come along and have some fun @talbothousemcr #summerfair #newtonheath #moston #manchester #community #fundraising #mcr #carers…

29/06/2017 - 09:49

talbothousemcr: Can everyone please vote for us and share amongst friends, family and colleagues. #MCFawards… https://t.co/10FAgPG4e0

29/06/2017 - 09:42

talbothousemcr: #MCFawards https://t.co/xn2RSMsnNz Please vote and share for us. https://t.co/ArL8rYFidu

25/06/2017 - 11:09

talbothousemcr: #EidMubarak to all our Muslim parent carers!

23/06/2017 - 12:05

talbothousemcr: #Summer #Manchester #Carers https://t.co/lAwmxoS07i
Follow us on Twitter