Talbot House
Blog
Rat Race
30th May 2013
On the 11th May 2013 the organisation Standwalk took part in Rat Race, the worlds biggest assault course which encompasses 200 obstacles in 20 miles in order to raise funds for Talbot House.

Standwalk specialise in providing person centred support for adults who have a learning disability. Many of the people they support have additional complex needs to their learning disability, such as: Behaviours which challenge, Mental illness, Autism, Physical disabilities.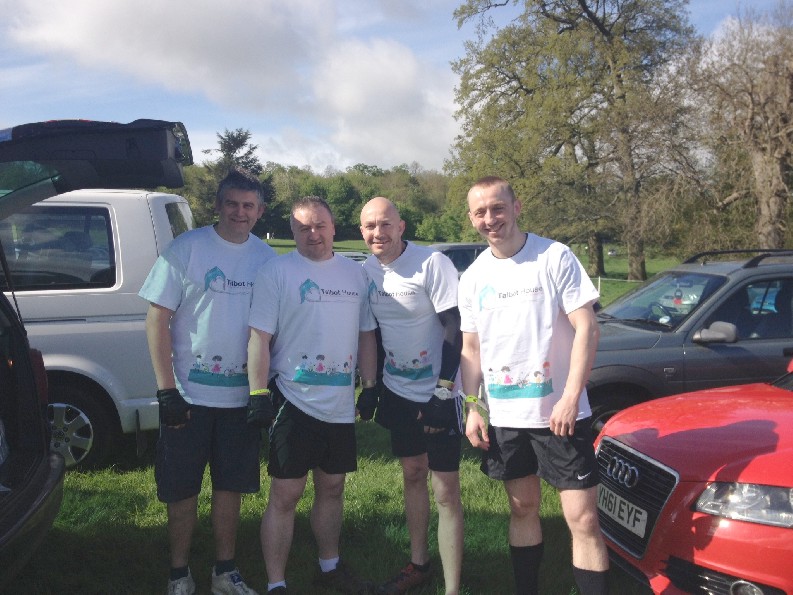 Team Standwalk pictured above included :

• Phil Gould (Standwalk)
• Tian O'Hara (Standwalk)
• Simon Barlow (Parkway Café)
• Mariusz Gabrys (Parkway Café)

Here is a blog from the day written by Phil Gould:

"Well Team Standwalk all made it, Just! Unfortunately one team member was forced to withdraw due to personal circumstances. On the morning the team were up for the challenge and made sure we were all there and ready for the Rat Race. We undertook the warm up exercises and got ready for our start time.
At 10.45am Team Standwalk set off and within just one mile, two members from Team Standwalk had sustained ankle injuries and could not continue or could they?
Two members carried on to the finish line and despite personal injuries the remaining two members took on the challenge solo, and made it! Get well soon Tian, who remains injured from the event.
Words can't describe the physical/mental challenge that was the Rat Race. It was simply the hardest event that the team have ever taken part in. There was more mud and water than we could have ever imagined. The water sections were simply ice cold lakes, the mud was just continuous and the weather although sunny, presented with hail, rain and wind which stopped many from completing the challenge due to hypothermia.
The entire team suffered with various injuries which included sprains, strains, blisters, severe cramps but above all exhaustion. What made our day, was all the other participants asking us "who were Talbot House?" and "What do they do?", which was great, apart from trying to crawl under cargo nets covered in mud and swimming in an ice cold lakes and trying to explain everything that Talbot House does in just a few words".
Sign us up for next year!
Everyone at Talbot House is incredibly grateful to the team who took part in what must be the most difficult and dedicated fundraising event ever done for us!
Blog Archive
February 2019
November 2018
October 2018
August 2017
July 2017